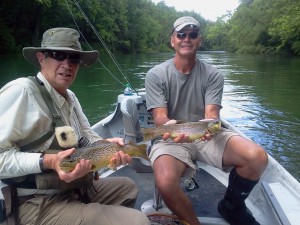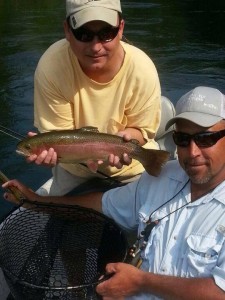 EFO is East Tennessee's foremost outfitters for guided fly fishing tours. We have a stable of the most professional guides that East Tennessee has to offer. We only trust our clients with seasoned experts that have proven their abilities and skills over many years on the water. Our guides have over 90 years of combined experience guiding clients on our local rivers so you can trust that they know all of them intimately. All of our guides are properly licensed and insured for your safety and well being. It is EFO's goal to always exceed your expectations with a trip that is tailored to you and we will work hard to ensure you have a quality experience. Full day tours, wading and floating, include a full lunch, snacks, drinks and all of the terminal tackle and gear you will need for the trip. Half day tours, wading or floating, include snacks, drinks and all of the terminal tackle and gear you will need for the trip. We will also accommodate any special needs that you may have, such as dietary, mobility, etc. All you need to do is show up!
Fly Casting Instructions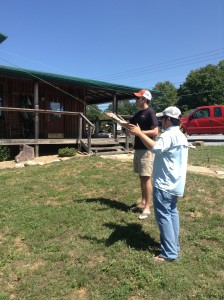 In fly fishing, the most important and fundamental building block for everything you do starts with the fly cast. The simple movement of the body, arm, hand and fly rod is deceptively complex. It is important to learn the basics in order to build on your cast as you improve on your distance and accuracy. At EFO, we offer basic and advanced personal fly casting lessons from beginners who have never held a fly rod to seasoned veterans looking to tweak their stroke. We all can benefit from an hour or two completely devoted to our cast every now and then! E-mail us or give us a call to book an hour or two.

Fly Tying Lessons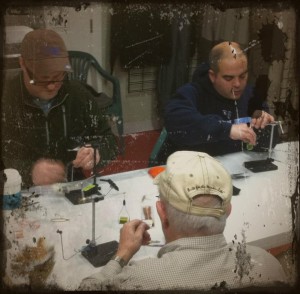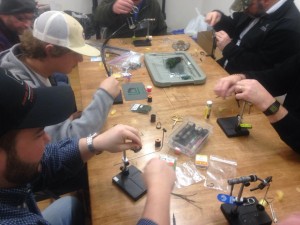 At EFO, we are all fly tyers and designers constantly trying to get the one up on our fellow fishermen using the latest and greatest in tying materials. We offer fly tying classes throughout the year to help you do the same. We have a class once a week in the winter months, periodic demonstrations and personal classes in the spring and summer months and we are always able to offer one-on-one personal classes all year. We have classes for all levels of ability and we let you tell us what YOU want to tie.
Call for pricing and Schedule.
Fly Fishing Lessons
Are you new to the sport or struggling to put a fish in the net?
We offer fly fishing lessons to take your fly fishing to the next level, wherever that may be. You will receive personal attention to all the aspects of your fly fishing skills from the fly cast to reading the water, rise form study, entomology, what fly to select and why, how to tie it on and how to catch that fish. After all, to most of us, fly fishing is supposed to be fun and relaxing. Let us take the guesswork out of it so you can spend your time on the water catching fish!
Lesson for 1 person: $225.00
*Standard Gratuity is $25 per person
Tackle Rigging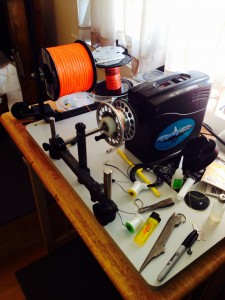 At EFO, we have a saying:
"Nail knots do not leave this shop!!"
We take pride in what we do and so our rigging should reflect that. Times have changed. So have knots and the way we put an outfit together. We have the only commercial line winder in East Tennessee. We DO NOT put backing on by hand. Whether we are putting a brook trout rig together, or a blue water outfit for chasing tuna and billfish, we put our extensive experience into our knots and rigging workmanship. We do the rigging for some major fly fishing tournaments every year and our clients from all over the world have come to trust that when they submit a record to the IGFA, our rigging will not fail the tests they put it through. We offer custom rigging, custom IGFA leaders, custom fly line rigging and packages upon request. Don't spend thousands of dollars on equipment only to lose that trophy of a lifetime to inferior  rigging.  Trust the professionals at EFO!